Cowley County Fair
Audy Verne Ellis
1899 - 1934
Winfield, Kansas
Wednesday, October 7, 1931
Winfield Daily Courier
Thursday, October 1, 1931 - Page 1B:
Races Be Features
On Wednesday, the second day of the fair, six auto races will be held. Some of the nations best known dirt track drivers have entered the competition and the event promises to be one of much interest.
Winfield Daily Courier
Thursday, October 1, 1931 - Page 3B:
Auto Race Drivers to Be Seen at Fair
Wednesday Will See New Attacks Made On Track Records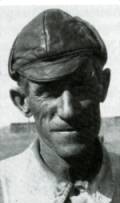 Phineas Comador
"Dad" Harrier
1878 - 1938
Speed will be stressed on Wednesday of fair week when the auto racers are seen in action on the track at the fairgrounds.
The Winfield track is fast and especially adapted to auto racing, as the turns are better banked than many tracks in this section. The day promises to be filled with good events.
Floyd O'Neal from Asheville, North Carolina will probably be the feature of the race day. He is one of the best dirt track drivers in the country and is a record holder both in his native state and in Tennessee. He has never raced before in this section of the country but has been in the racing game for several years.
Others who will enter will be Happy Fox from Kansas City and "Dad" Harrier in his Fronty Special who is one of the favorites wherever he is entered. He is said to be the oldest racing driver in the game today.
Kline Brothers from Knoxville, Tennessee will also be entered along with others. From all indications there will be plenty of speed shown when the racers start their afternoon's grind.
Winfield Daily Courier
Saturday, October 3, 1931 - Page 3:
Auto Race Program Announced For Fair
Ten Dirt Track Drivers Will Compete Here For Honors
Many well-known dirt track auto race drivers will be in Winfield Wednesday, October 7th, to give the patrons of the annual Cowley County Fair a program of speed, thrills, and possibly spills.
Dad Harrier, America's oldest dirt track auto race driver, is to be one of the competitors for the cash prizes offered. Harrier is 72 years old and has been in the game for 17 years. In spite of his age, he is steady and nervy and puts his Fronty Special around the track with the rest of the drivers.
Floyd O'Neal
1900 - 1970
Five Races Scheduled
Among the drivers who have thus far made entries for the speed event are: Floyd O'Neal, Ashville, N.C., driving a Glorier Special. O'Neal is known as the Southern Cyclone and is rated as stiff competition. Phil and Major Cline, the famous brothers from Knoxville, Tennessee, will be in Winfield also. Phil drives a Laurel Special and Major a Frontenac.
Other entries are: Happy Fox of Kansas City in his Mayfield Special; Verne Ellis, driving a Model A Ford from Kansas City; C. C. White, Detroit; and Harry Jones of Holton, Kansas in a Buick Special.
On the program will be first the time trials in which cars will run one-lap against time to determine their positions. Event two is an eight-lap qualifying race. Event three is a five-lap dash race. Event four is an eight-lap qualifying race. Event five is a novelty race and event six is a grand final sweepstakes.
The fair management has examined the merits of the auto racing management and has been fully advised that a real speed event will be offered on next Wednesday afternoon.
Winfield Daily Courier
Wednesday, October 7, 1931 – Front Page:
Early indications at the fairgrounds, (crowds) would be large, especially for the address of Ralph Snyder, president of the Kansas Farmers Union. Mr. Snyder's speech was scheduled to start at 2 p.m. with six auto races of much interest following immediately thereafter.
List of Entries
Driver

From

Automobile

Car #

Floyd O'Neal 1

Asheville, NC

Glorier Special

8

Phil Cline

Knoxville, TN

Laurel Special

41

Major Cline

Knoxville, TN

Frontenac

42

Happy Fox

Kansas City, MO

Mayfield Special

C-13

Verne Ellis

Kansas City, MO

Model A Ford

33

Harry Jones

Holton, KS

Buick Special

J-1

Commodore C. White 2

Detroit, MI

Frontenac

Y-5

Copy of a program

for these races that

once belonged to

driver Phil Cline.

Brad Eudy collection

Offerle, KS

Simplex Special 3

C-5

Lewis, KS

Fronty Blue

3

H. D. Smith

Chanute, KS

Chevrolet

56
Race Starter – Alfred Lloyd "Ducky" Scott of Topeka, Kansas
1 Floyd Acklin O'Neal (1900-1970) was named by car owner A. J. Preston of Knoxville, Tennessee to drive the #57 Preston Special in the Indianapolis "500" in 1935 but O'Neal was unable to get that Morton & Brett powered car running fast enough in qualifying to earn a starting sport in that race. O'Neal passed away at Fayetteville, Tennessee.
2 Commodore C. "C. C." White (1901–2000) was born at Warrensburg, Missouri and lived most of his life at Emporia, Kansas. Head injuries suffered in a crash in the 1930s were severe enough to end his driving career but he continued to own racing cars into the early 1950s. White died at Burlingame, Kansas and is buried in the Cottonwood Friends Cemetery west of Emporia, Kansas. He just listed his hometown as being Detroit to help make it appear the races were drawing in competitors from a wider area.
3 The Simplex Special, driven by William Henry "Bill" Froetschner (1907-1992), was a Model-T Ford sponsored by Simplex piston rings. Froetschner quit racing a few years after this race at Winfield. He sold the car to a man at Maxville, Hamilton County, Kansas after he was badly burned in a racing accident at Dodge City, Kansas.
4 William Jackson "Bill" Carroll (1900-1975).
To date, no race results have been located for this racing program. The local newspaper devoted quite a bit of space to the politician's speech to the assembled crowd before the races but did not mention anything about the races themselves. If you have any race results from the races run on this date at Winfield, please contact Bob Lawrence at sprintguy @ cox.net
Return to page one of the History of Auto Racing at Winfield website.
Commadore C. White
Commadore White